What is SmartGuard™ Technology?
The MiniMed™ system can guide you towards better control1 by providing advanced protection from hypoglycaemic episodes2 and personalised convenience for easier daily management of your diabetes.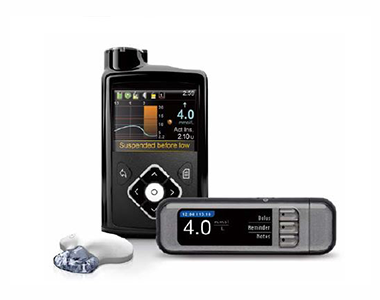 ADVANCED PROTECTION
Since many factors can affect your glucose levels, such as diet, exercise and stress levels, you may need a system that can give you better control: an intelligent system.  The MiniMed™ 640G insulin pump features innovative technology to more closely mimic the way a healthy pancreas delivers basal insulin to the body in order to help you to achieve better control.
SMARTGUARD™ TECHNOLOGY: ONE STEP CLOSER TO THE ARTIFICIAL PANCREAS
Tired of experiencing unexpected lows? Worried about hypos? To avoid low glucose levels and maintain good glucose control, it is important to know where your glucose levels are and where they are heading.  The MiniMed™ 640G insulin pump is designed to help protect you, so you can feel more secure. SmartGuard™, our exclusive technology, mimics some functions of a healthy pancreas to provide advanced protection against hypoglycaemia.4*
Based on your sensor glucose values, SmartGuard™ can predict when you are approaching low glucose levels 30 minutes in advance and automatically stop insulin delivery**
When your glucose levels recover, SmartGuard™ will automatically resume insulin delivery***.
You have the possibility to set multiple low limits throughout the day to give you increased protection when you need it most.
Dynamically stopping insulin delivery

with a suspend feature can significantly reduce the number of hypoglycaemic events.4
93% of those who used a suspend feature in their pump felt more secure managing their diabetes.5
Compared to multiple daily injections, according to the STAR 3 clinical study: Bergenstal RM, Tamborlane WV, Ahmann A, et al. Effectiveness of sensor-augmented insulin-pump therapy in type 1 diabetes. N Engl J Med. 2010;363:311–320.
Garg S, Brazg RL, Bailey TS , et al. Reduction in duration of hypoglycemia by automatic suspension of insulin delivery: the in-clinic ASPIRE study. Diabetes Tech Ther. 2012;14(3):205-209.
Section 8 clinical study. Data on File. Bayer Healthcare, LLC.
Bergenstal RM, Klonoff DC, Garg SK. et al. Threshold-Based Insulin-Pump Interruption for Reduction of Hypoglycemia. N Engl J Med. 2013; 369(3):224-232.
User Evaluations. Data on File, Medtronic MiniMed, Inc.,Northridge, CA
*Must be using Guardian Link with Enlite to enable SmartGuard feature on the MiniMed 640G insulin pump. A confirmatory fingerstick is still required prior to making adjustments to diabetes therapy.
**The dynamic suspend feature is based on certain criteria: sensor glucose must be within 3.9 mmol/L of the low limit and predicted to be 1.1 mmol/L above the low limit within 30 minutes AND the pump must not be in the refractory period.
***The dynamic resume feature is based on certain preset criteria: sensor glucose must be 1.1 mmol/l above the preset low limit and predicted to be 2.2mmol/l above within 30 minutes AND insulin must have been suspended for at least 30 minutes.
****Calculation is based on the amount of insulin currently in the body, the amount of carbohydrates, the user's current and target blood sugar levels, their insulin-to-carb ratio and their body's sensitivity to insulin. Proper Bolus Wizard set-up must be completed first. Users must input the number carbohydrates they are eating and their current Blood Glucose value before the Bolus Wizard can calculate the insulin users should take.
†Waterproof at time of manufacture up to 3.6 meters for up to 24 hours at a time. See MiniMed 640G User Guide for a complete description of the waterproof capabilities and proper use instructions.